Marano Brothers have chosen local crafts to present their classics: baskets made with chestnut tree of Aspromonte, handmade by artisans from Calabrian mountains using the most traditional methods. Perfect combination for a 100% natural and handmade product.
A fragrant and delicious product, now become a renowned classic of Marano Brothers: Paciocchi are the excellent combination between delicious baked figs stuffed with almond and orange peel and pure chocolate, in a typical basket with extra pure dark chocolate and pure white chocolate. An ideal solution for a sweet gift.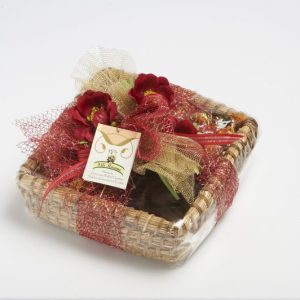 A typical basket containing four Marano Brothers products: classic and delicious Paciocchi stuffed with almonds and orange peel and the soft and tasty Bon Bon, both offered with pure and extra pure white chocolate coating. An ideal solution for a sweet gift.